Library Computer Stations
Computer Usage Policy / pcpldtech@pikelibrary.org
How to Use
Computers are available to use at all Pike County Library locations.
Use of the library computers require a library card. If you do not have one, please request a guest pass from a librarian. Photo ID is required.
Log In
To login to a computer station, use your library card number and PIN number.
Find your library card number on the back of your library card.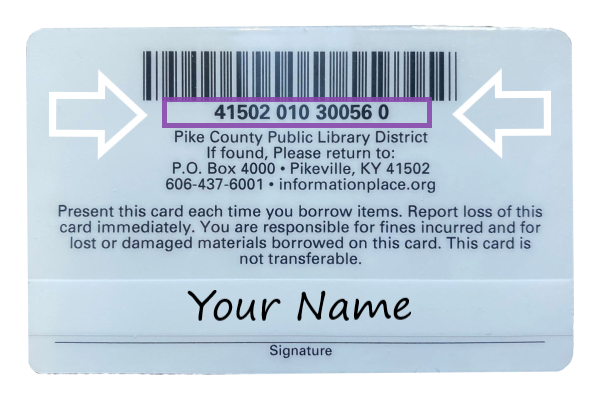 Enter the PIN number you created when you got your library card.
Example: 1234
If you have lost your PIN number you can request a new one from the circulation desk.
---
Computer/Internet Usage Policy
Basic Rules
All Patrons using computers must sign-in and agree to the library's current internet/computer policy.
Patrons must sign-in and leave an acceptable form of identification at the circulation/computer station desk. The identification may be returned after the computer has been successfully logged off.
Patrons owing fines will not be allowed access until all fines are paid.
Patrons using the internet must be at least 18 years of age. Patrons under the age of 18 may use the internet upon completion of a signed parental permission form. The parental permission form must be filled out at the library by a parent or legal guardian. Any patron under the age of 10 MUST be accompanied by an adult while accessing the internet at all times.
No food and/or drinks allowed in the library.